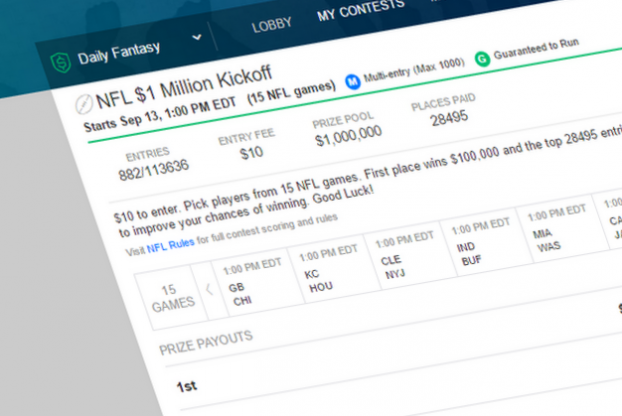 Yahoo! threw its hat into the DFS ring this summer by launching its daily fantasy baseball product. However, with football on the way, the search giant has turned its attention to NFL Week 1, announcing an opening week contest that will hand out $1 million in total prizes for a $10 entry fee.
Buzz surrounding Yahoo!'s daily fantasy offering died off fairly quickly as the MLB season entered the doldrums of summer. But a new sport and a big prize pool may be enough to win back those who drifted away from the company's initial DFS product.
As we mentioned at Yahoo!'s daily fantasy launch, the company entered the fray as the only major sports publication to offer a DFS game at the time. The site has offered season-long fantasy for over a decade and has built a vast database of potential customers. And with that backing and pedigree comes the ability to go out on a limb with a big Week 1 NFL contest.
So just how big is this opening week tournament?
The 113636 entry contest is already posted to the Yahoo! Daily Fantasy lobby, and allows users to enter up to 1,000 lineups for a chance at the top prize. First place will earn $100,000, while second place takes home $60,000 and third place earns $25,000. This is a guaranteed prize pool contest, so Yahoo! will foot the bill for the listed prizes, even if the contest doesn't fill.
This payout structure means that Yahoo! will likely rank third in the industry in terms of prize pools offered during Week 1 of the NFL season; Their prize pool for their marquee Week 1 event is only bested by FanDuel and DraftKings. Many sites have not yet announced their Week 1 contest lineups, but it's difficult to imagine any (with the possible exception of Sportsline from CBS Sports) coming close to a $1 million event for a $10 entry.
Top-heavy prize pool
The prize pool is very top-heavy, awarding only $15 on a $10 investment to anyone finishing between 9988th and 28495th. That's over 18,000 people who will only get back a $5 profit for being in the upper echelon of NFL daily fantasy players in this contest. This, however, is a growing trend across the industry.
DraftKings is offering a similarly top-heavy Week 1 contest with its Millionaire Maker, which awards $2 million to first and $1 million to second, but will reward a large number of "minimum cash" players who finish in the top 20% with only $5 worth of profit. Meanwhile, FanDuel offers a minimum payout of $40 in their $25 event, with a slightly flatter payout structure, but less impressive top prizes.
Yahoo! currently has numerous other contests posted to their lobby for the NFL's opening week of games, with several large 50/50 contests and a $25 guaranteed tournament that will pay $25,000 to first place. Every guaranteed contest currently in the Yahoo! lobby allows for multi-entry, with the exception of 50/50 games with entry fees higher than $109.