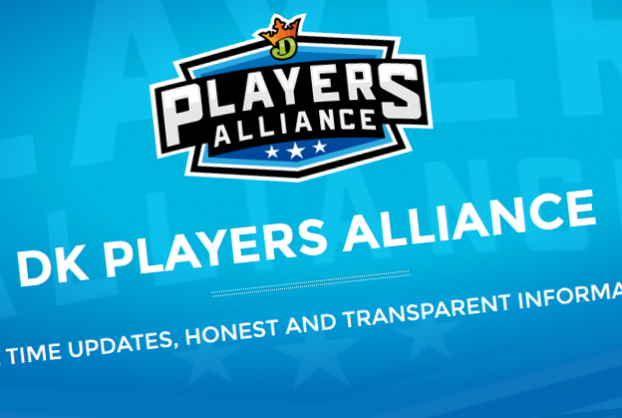 Over the past few months, daily fantasy operators have been heavily scrutinized and often demonized in the press. With the media smelling blood in the water, DraftKings has hit back and is attempting to change the narrative by offering a platform for everyday DFS players to share their stories.
On the DK Players Alliance website, DraftKings provides curated news links and discussion on the legal issues facing the industry, and allows regular players write about how DFS has made a positive change in their life.
Already, over a dozen players have published their personal DFS stories on the site, each with a different take on the industry.Roblox HackBigo Live Beans HackYUGIOH DUEL LINKS HACKPokemon Duel HackRoblox HackPixel Gun 3d HackGrowtopia HackClash Royale Hackmy cafe recipes stories hackMobile Legends HackMobile Strike Hack
Eroding freedoms
Seth Yates, a United States Air Force veteran and avid daily fantasy player, believes that Americans should have the freedom to decide whether or not they want to play DFS.
"When I'm given the chance to vote on a social issue, whether it be same sex marriage, marijuana, or fantasy sports, I'm casting my vote for freedom. These are the same freedoms I signed up to fight for in the Air Force," he said. "Maybe you don't care about fantasy sports, but one of your freedoms is being threatened elsewhere. If we stand by and watch as others lose their freedom, we all lose a bit of freedom."
The DFS industry is taking a lot of heat at the moment, with some publications characterizing those involved as reckless and greedy. To Yates, nothing could be further from the truth. He relates how the community at RotoGrinders.com came together to help Ryan T, a forum regular who had developed Stage IV Hodgkin's Lymphoma, by donating over $10,000 to help with medical bills.
"Even though we are competing against each other, our love of sports creates a common bond," he said.
A whole new career
Dan Back, a well-known member of the DFS community who hosts a popular industry podcast, spoke about the hugely positive effect that DFS has had on his life.
In 2010, Back was an out of work radio host and stay-at-home dad, caring for his son Aaron. On a whim, he decided to create a demo of a daily fantasy-focused podcast, and sent the finished product to the editors at RotoGrinders. They loved the idea, and Back was soon hosting his own show on the site.
"In the four-plus years since that beginning, DFS, RG, my career, and my family has grown," he said. "What started as a podcast has led to GrindersLive and a regular SiriusXM show which has allowed me to extend the initial vision of helping your 'everyday player' to platforms I never imagined."
Furthermore, the freedom and flexibility of working remotely has allowed him to stay at home with his growing family while pursuing his passion at the same time.
DFS has even brought Back closer with his father, who is also an avid daily fantasy player. "He's the reason I became so interested in sports and for us to share the bond of playing and discussing DFS strategy is something I treasure," he said.
If you'd like to show your support for DFS or add your story to the DK Players Alliance website, simply email it to contact@dkplayersalliance.com, or visit their Facebook page here.