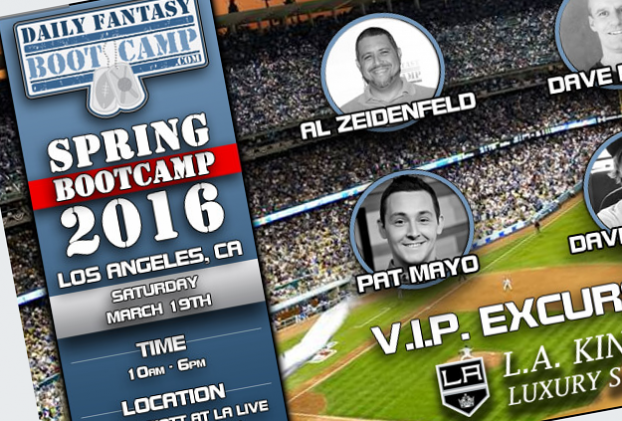 With the 2016 baseball season just around the corner, Daily Fantasy Bootcamp has announced two live events during which players can hone their MLB DFS skills through presentations and personal instruction from industry heavy hitters.
LA bootcamp
The first event is scheduled for March 19, and will be held at the JW Marriott at the LA Live entertainment complex in Los Angeles, California. Kicking off at 10 AM, attendees will enjoy 30-45 minute presentations from several guest 港股开户 speakers, including Al 'Smizzle' Zeidenfeld, Dave 'Cheeseisgood' Potts, Pat Mayo and Davis Mattek.
After each speech, grinders will have the opportunity to interact with presenters in Q&A sessions, before being split up to form small groups and receive more personal attention from one of the aforementioned DFS pros.
Those looking for even more access to the day's DFS speakers can purchase a VIP ticket, which will grant them entry into a luxury suite at the LA Kings game taking place that night. There, players can hang out with presenters and sweat their lineups in a more relaxed environment.
General admission tickets will run you $250, while VIP tickets will set you back $500.
Boston bootcamp
The second MLB bootcamp will kick off on April 16 at the Boston Marriott Long wharf in Boston, MA. The format of the Boston meeting will be much the same as the LA camp. This time around, speakers will include Derek Carty, Paul Sporer, JM Tohline, Dave Loughran, and once again, Al Zeidenfeld.
After the bootcamp, VIP ticket holders will head to a luxury suite to watch the Boston Red Sox game, where they can interact and socialize with the day's presenters in a casual setting.
The event's website hails the camps as "the first live and in person training experience for the daily fantasy player who is looking to improve his or her game."
"Until this point there has only been the opportunity for players to gather information through online articles, tools or videos… the Daily Fantasy Bootcamp will take this to the next level with live seminars featuring instruction from some of the best players in the game."
Current RotoGrinders subscribers who purchased tickets will get a discount of one month's membership fee ($29.95), while nonsubscribers will get a free month-long site pass. If you're unable to make it, never fear, the bootcamp will be filmed and be made available to RG subscribers.
If you are interested in attending, it's best to grab your tickets quickly, as passes will be limited to 50 seats, 20 of which will be reserved for VIP ticket holders. Find out .